1. Make sure your vehicle is equipped with the appropriate certified device - Mapon Expert, Teltonika FMB640, Teltonika FMC640, Teltonika FMB120, Teltonika FMB920, Teltonika FMB140, Teltonika FMT100, Teltonika FMP100, Teltonika FMB630, Teltonika FMB125.
2. To activate the integration, go to your Mapon platform account Settings menu and select the Integration tab. Then click on Poland e-TOLL integration (if you don't have access to this section, contact Mapon Customer Support).
3. Find the vehicle you want to register in the list and click REGISTER CAR.
Please keep in mind that registration can take from 5 to 20 minutes!
After successful registration, the OBU-ID and OBU-PIN will be generated in the corresponding boxes.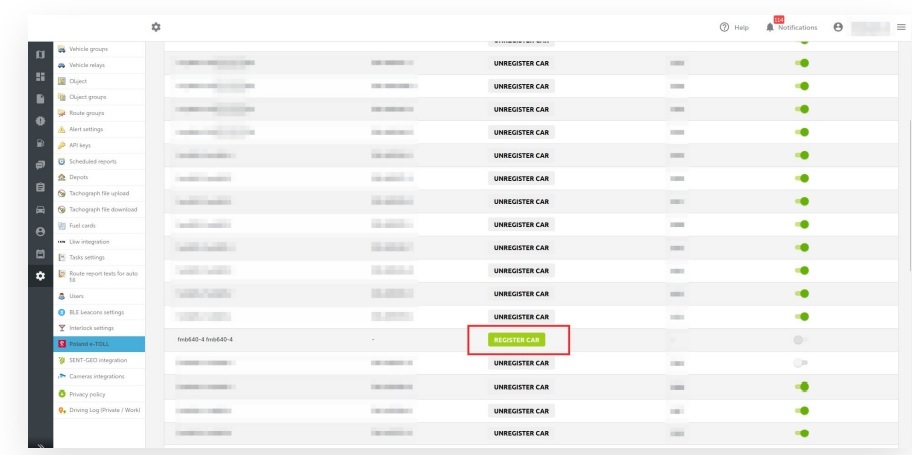 4. Then go to your e-TOLL account and register your car (if you don't have an e-Toll account yet, here is a video on how to do it).
5. At the bottom of the screen, find the button 'Add OBE to vehicle'. When you click on this button, a 'Business ID' window opens; here, you must enter the OBU-ID and OBU-PIN codes you received in the Mapon system, in the e-TOLL integration section. The vehicle registration in the e-TOLL system is now complete.
6. In the Poland e-TOLL integration tab, in the Mapon profile, you can enable or disable data transfer. A green switch means that data is being sent to e-TOLL and a gray switch means that no data is being sent.
Keep in mind that if you make a mistake when entering your OBU ID or PIN, or if you fail to turn on the data transfer before entering Poland, the toll will not be paid and the owner of the vehicle will probably be fined!
7. Make sure you have money in your e-TOLL balance, or you have provided your payment card details and enabled automatic topping up of your e-TOLL balance.
8. Check also that the vehicle has been successfully activated on the e-TOLL side - there is a green checkmark next to the vehicle, which means that it has been successfully registered and can drive on Polish roads using e-TOLL.